Fall is a season for gratitude. To help us get to the heart of it, we interviewed three families who have a sibling with special needs to find out why they are thankful for them and hold them close to their hearts.
RACHEL & JOSH
Meet Josh and his twin sister, Rachel. Josh started going to Camp Barnabas five years ago. Rachel first attended camp along with her brother as a sibling camper, and then later served as a missionary. She now works as an intern during the year at Camp Barnabas.
"There are two ways to look at being a sibling of someone with special needs. First, you can think of all the things your loved one won't be able to do and feel pity. Or you can realize all of the things they are capable of doing, or better at doing than you. I realized, as I got older, that if we strive to live life focused on God, He will provide for my brother and give Josh what he needs," says Rachel. "I wouldn't want to change anything about Josh because the gifts God has given him make Josh who he is. I love him so much and am so thankful to have a buddy for life."
Josh is thankful to have Rachel as a sister as well. "She gives me hugs when I am feeling sad and she does fun stuff with me. I like to go places with her," says Josh. He remembers their trips to the dog parks and is looking forward to spending Thanksgiving together, especially because it involves eating pumpkin pie.
BRENDA & LUKE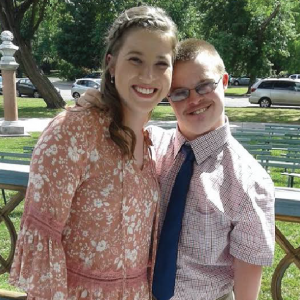 Our next set of siblings are Brenda and Luke. Luke started going to camp in 2011. He loved it so much, that Brenda decided to join Camp Barnabas as a missionary the year after. She now works part-time for the Springfield Barnabas office.
"Individuals with special needs bring bountiful blessings into the lives of their family members. At the same time, life can be exceptionally challenging in ways that most wouldn't initially see," says Brenda. "I am incredibly thankful for Luke. He loves games and always wants us to do things as a family. He texts or calls me just about daily and always wants to know where I'm at, what I'm doing, and when I'm eating dinner," says Brenda. "I am thankful for the joy and excitement that he has when doing new things, and every single time that he sees me."
Brenda and Luke cherish the moments they have together to do the simple things. "I like to play games and I like when we play Uno together," says Luke. Both are looking forward to spending quality time together this holiday.
MATT & EVAN
Meet the sibling-duo Matt and Evan. Matt has served at Camp Barnabas in a multitude of ways and now works full-time at Barnabas Prep. Although Evan hasn't had a chance to partake in camp; he has enjoyed supporting Matt with family visits.
"I would do anything for Evan. Beyond just brotherhood, he is just the most loving person I know. He wants to share himself with you and he wants to know you personally," says Matt. "Evan has entirely shaped what is important to me, and I would not be who I am or where I am without him."
Evan said one of his favorite memories of Matt was, "playing Apples to Apples cards." He loves that his brother works for Barnabas and mentions that it makes him very happy.
Siblinghood is a blessing from God. We are humbled and grateful to hear such insightful and sweet recollections from all three pairs. Through this Thanksgiving season, let it be a reminder to us to focus on the blessings that our family members give us and to cherish spending time with people we hold close.
"All this is for your benefit, so that the grace that is reaching more and more people may cause thanksgiving to overflow to the glory of God."
2 Corinthians 4:15