Welcome to Camp Barnabas: an experience designed with you in mind. Campers are reminded that they are wonderfully and perfectly created. Each and every day, our Campers are told YES you can!
What is Camp Barnabas
At Camp Barnabas, we invite people with disabilities and chronic illnesses to experience a Christian summer camp built with them in mind. Our goal is to make sure everyone has the best week of their lives.


Our Campers are individuals ages 7 and up with a variety of diagnoses: developmental and physical disabilities, chronic illnesses, autism spectrum disorder, cancer, hemophilia, cerebral palsy, Down syndrome, cystic fibrosis, amputated limbs, atypically formed limbs, visual impairment, hearing impairment, spina bifida, and many other rare and debilitating diseases.


Every program and activity is adapted so each person, regardless of ability, can participate.

Each week is geared to a specific age range and a set of diagnoses so that each Camper is in a cabin with others similar to themselves—you're never too old for camp!

Campers are matched one-on-one with a volunteer Missionary so they can get the full support they need. The relationships built at camp will last a lifetime.

We have a full medical facility with nurses and doctors equipped to accommodate any medical needs our Campers may require.

Campers grow in their faith journey with daily devotionals, worship, and prayer.

We invite you to experience the love, joy, and excitement at camp this summer.
Weeks
Each week is geared to a specific age range and a set of diagnoses. Click through weekly descriptions to see where your Camper will thrive.
Activities
There's no shortage of fun things to do at Camp Barnabas. We offer a ton of exciting activities, including a high and low ropes course, game room, basketball courts, mini golf, fishing, pool (closes after Labor Day), rock wall, zipline, field sports, apple cannons, gel blasters, and canoeing. Every activity is adapted so that every person, regardless of age or ability, can participate.
Cost
Camp registration covers meals, lodging, safety resources, medical supplies, adaptive measures, programming, activities, and more.
Registration includes a non-refundable $100 registration fee. Camper Scholarships are available and are applied for in the registration form.
Early Registration:
$1200
When you register by August 31
General Registration:
$1400
When you register between September 1 - December 31
Late Registration:
$1500
When you register after January 1
Scholarships
We never want cost to be a barrier to attending Camp Barnabas. Camper families may apply for additional financial support when registering for camp. Any family wishing for pre-approval for a scholarship may reach out to our Camp Registrar at [email protected]. Please know that approval for a scholarship does not guarantee a spot in a week at camp, you must also register your Camper for the week of your choice. Scholarship recipients will be determined after the new year. Scholarship assistance is not guaranteed.

In the meantime, we do encourage all families to read and utilize our fundraising guide. Download the fundraising guide here or email [email protected].

Cancellation Refund Policy:  Requests received prior to March 1st will result in a payment refund minus the non-refundable registration fee of $100. Cancellations occurring after March 1st will allow for payment transfer to another week within the summer or toward registration for the following summer less the registration fee of $100. We request that all cancellations are given at least 10 days before the start of the session. Any Camper/Missionary who is a no-call, no-show for their session will not be eligible for a refund or transfer of funds. All cancellation requests must be in writing and sent to [email protected].
Make a Payment
Make a payment on your account here. Please follow the steps below once at the payment portal:
Log-in with your username and password

To view the payment screen, select your Camper's name or select the payment button to the right of their name
You may also mail payments to PO BOX 609 Branson, MO 65615. Balances can be paid all at once or in installments. To set up a payment plan, contact [email protected] or click here.

Looking for help fundraising for camp? Check out our Fundraising Guide.
Photos
Get a glimpse into all that Barnabas has to offer through the photo gallery! To access photos, you can either download the Camp Barnabas mobile app or visit the online gallery. Both options allow you to access and browse our gallery for free, but will require you to create an account. Once you've created an account, use the access code "TEASTRAIL" to view photos.

Viewing the full online gallery is free. If you'd like to use facial recognition to find photos of your Camper, Missionary, or download high-res images from our gallery, sign up for a paid package by downloading the app from the Google Play Store, Apple App Store, or visiting the online gallery.
Camp Barnabas has been hard at work preparing our staff and facilities to serve our campers as best as possible. Whether it's implementing brand new programming or hiring an energetic team dedicated to creating a safe and fun environment, we're doing everything we can to make camp the best it can be—that's the Barnabas Difference.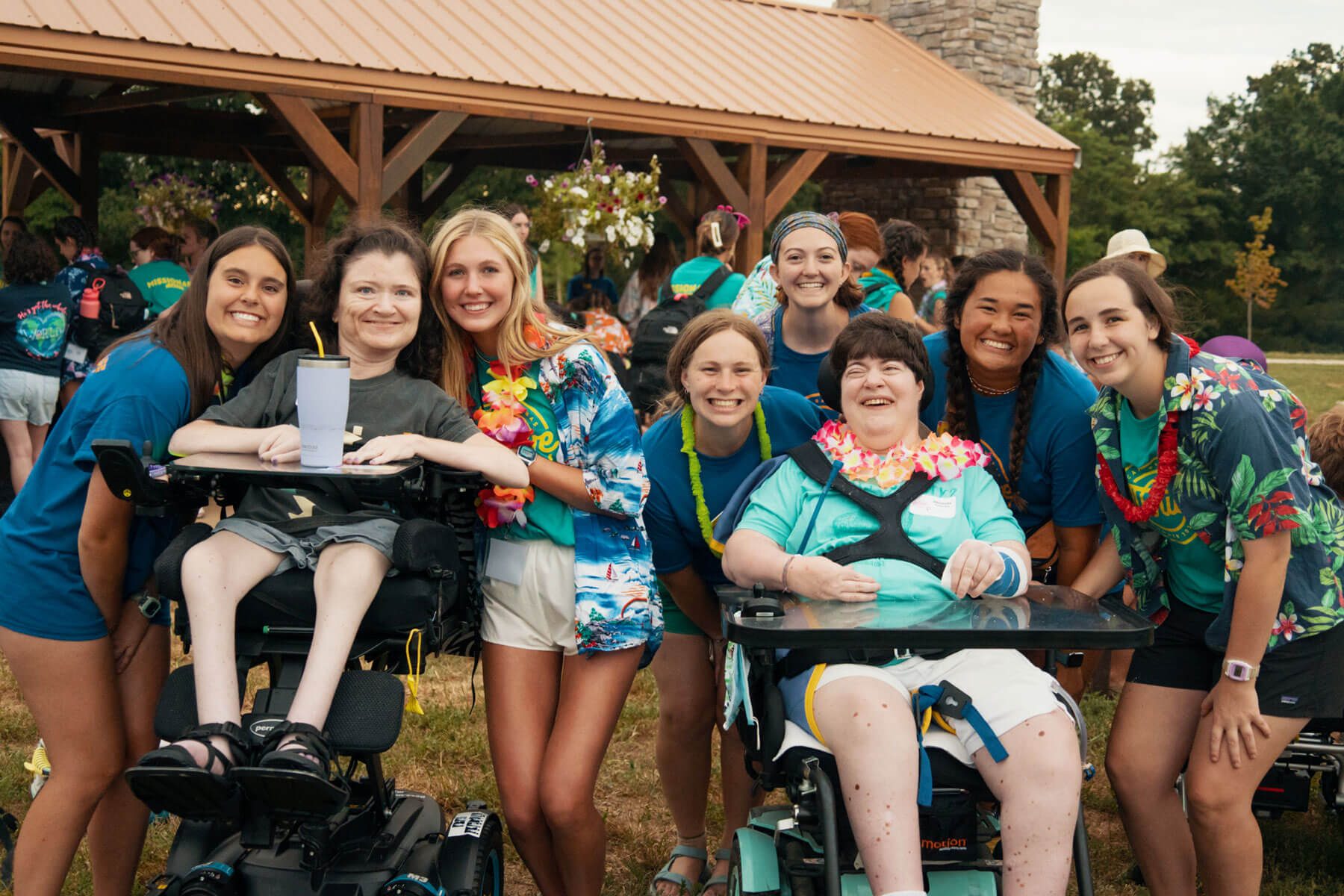 Campers Giving Back
At Camp Barnabas, we believe that each individual is created with purpose and ability. As our campers grow, we want to provide an opportunity for them to choose an alternative camp experience in which they can give back, lead others, and inspire those around them to achieve their goals and live a life of purpose.

Our Role Model Program is designed for returning campers (16+) looking for the next step in their Camp Barnabas experience. It is designed for Campers who desire to mentor others and/or serve in some way. All Role Models must complete an application to be eligible.

Role Models are placed into cabins with Campers and Missionaries. They have support from missionaries and staff in their cabin but may not have an assigned "buddy" for the week. Role Models will follow the same schedule as their assigned cabin during the week, but they will also follow their set goals and work on ways to meet them while also collaborating with their assigned cabin and staff. For more information, contact [email protected].

Role Model interviews will begin in January.